X-CYCLONE® Duct-mounting Filters
Duct-mounting systems for air purification and odour elimination
We can offer you individual and tailored solutions for the pre-separation of pollutants from the exhaust air of industrial workshops or the post-treatment of the exhaust air from commercial kitchens. All REVEN® Duct-mounting Filters are distinguished by state-of-the-art technology, high quality, and excellent durability.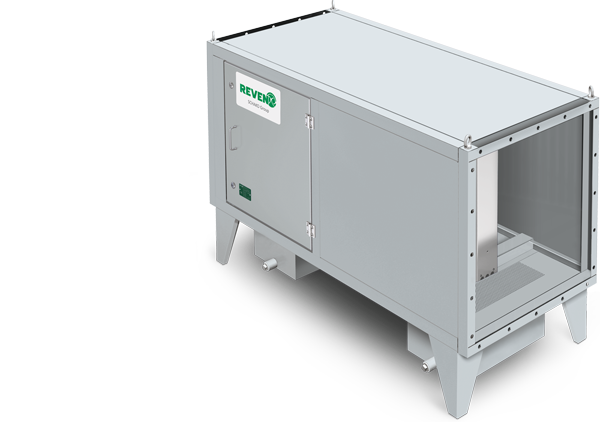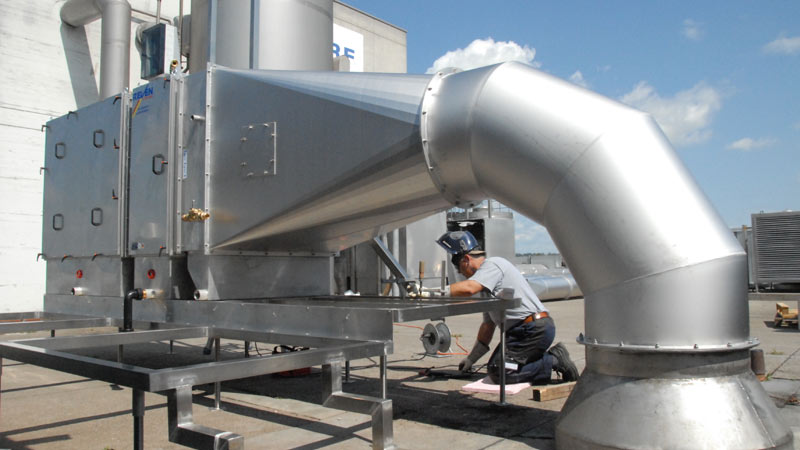 Tailored to your requirements
Our expertise concerning duct-mounting filters
The entire range offered by REVEN: from the pre-separator with an air volume of 500 m³/h to the RKM-12 with an air volume of 80,000 m³/h.
We offer duct-mounting filters with X-CYCLONE® technology and, optionally, with a spraying system as well as electrostatic filters. For odour neutralisation, duct-mounting systems with UV-system or with RGN99 high-performance granulate are available.
Our patented high-grade X-CYCLONE® Separators not only provide service for a lifetime but are also among the most effective separators available on the market with a separation rate of up to 99.999 %.
You have special demands – we have a suitable solution. And if not, be sure that we will find one.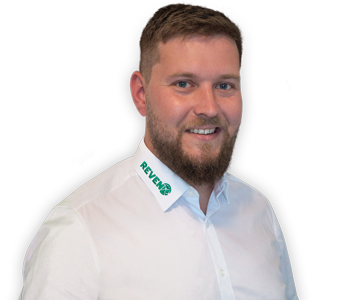 Contact
Would you like more information?
We provide you with competent and comprehensive advice.
I will be pleased to give you advice!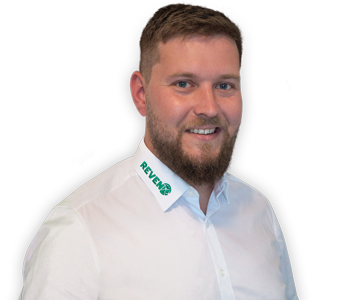 Contact me directly:
Marcel Volle
Your point of contact for Air Cleaners for machine tools
and for the mechanical engineering industry
+49 7042 373-41
@marcel.volle@reven.de
For inquiries concerning air cleaners for machine tools, please fill in the check list and send it by e-mail to me.
Still not convinced? – Find more good arguments below …
Highlights of our Duct-mounting Filters and Separators
Separating rates of up to 99.999 %

The X-CYCLONE® high-performance separating system achieves a very high separating efficiency with rates of up 99.999 %. It is also available in combination with an electrostatic filter.

Proven functionality

The effectiveness and function of the duct-mounting separator are proven by CFD flow analysis.
Filter system for ultrafine particles


The agglomeration system for
PM2.5 is made of stainless steel.

No more deposits

The exhaust air duct is effectively
protected against contamination.
Fire protection

The flame-arresting capability of the X-CYCLONE® Basic Elements is tested in accordance with DIN 18869-5 and DIN EN 16282.

Lifetime warranty

We provide a lifetime warranty on the
X-CYCLONE® Aerosol Separator Basic Elements and for the corrosion resistance of the housing.
Accessories and Services
Additional offers in connection with duct-mounting systems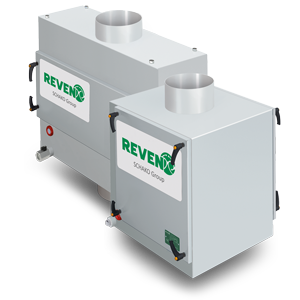 RKV Exhaust Duct Air Cleaner, suitable for pre-separation
For the pre-separation of exhaust air directly at the processing machine, we offer our RKV Duct-mounting Filter in two versions: RKV1 for water-based aerosols, suitable for installation in a vertical exhaust air duct, and RKV2 for water-based and grease-based aerosols, suitable for installation in a horizontal exhaust air duct.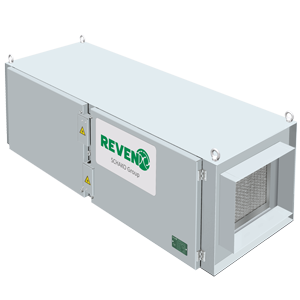 RKUV Exhaust Duct Air Cleaner for odour reduction
For high odour pollution – whether organic or synthetic – our RKUV is the right choice. The reduction of odours is achieved by UV-oxidation. It is suitable for installation in a horizontal exhaust air duct.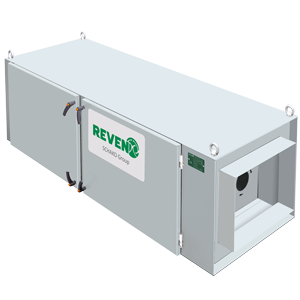 RKGN Exhaust Duct Air Cleaner for odour reduction
This duct-mounting filter was specially developed for cleaning the greasy exhaust air of food processing plants, canteen kitchens and large bakeries and for combating organic odour pollution using RGN99 high-performance granulate. It is suitable for installation in a horizontal exhaust air duct.
Building designers particularly appreciate the high-quality workmanship of the REVEN® Duct-mounting Systems.
REVEN® Duct-mounting Filters, Electrostatic Filters and Duct Separators for central extraction are always a benefit.